We started agility one month ago. Wili is much better than me
His concentration is on a high level, and he is really enjoying in every new exercize.
Till now, those agy lessons were just warming up for a real agility school, that will start next month

ambientart





Excellent photos !!

des matins de cristal





thank you
we had a bad weather last week, but on wendsday we are going again, and there will be more photos

ambientart





Great pic's!
I think that Agility is perfect for schnauzer.

MARANT





oh, yes, i think that their caracter is born for agility!
they love to work and to have contact with owner. they learn so fast, they are also very live and fast, and that is winning combination.
the only thing that is a little harder is to make your dog concentrated on you for at least half an hour, and we now that schnauzers are very curious dogs
anyone who have time should practise agility that with their schnauzer, cause you are rising a totally new relation with your dog when you are training that
before we started, i thougt that he is hiperactive dog, cause he is capable to run for more than 3 hours wit dogs and for the ball. i realised that is only loosing of his energy, cause he was not using his mental power, only running as a fly.
now, after our agility lessons that are not longer than one hour, he is totally "used" , and with less energy than ever, sleaping as a baby.
he enjoy more and he is using his brain more while we are doing something together

ambientart





great photos! looks like a fast dog!
thank you for sharing!

SchnauzkyLVR





thank you,
SchnauzkyLVR
. he is fastest in the group
we are also training obedience, and here how that looks:
This was his second obedience training, and second time that he saw trainer. he is waching him like a god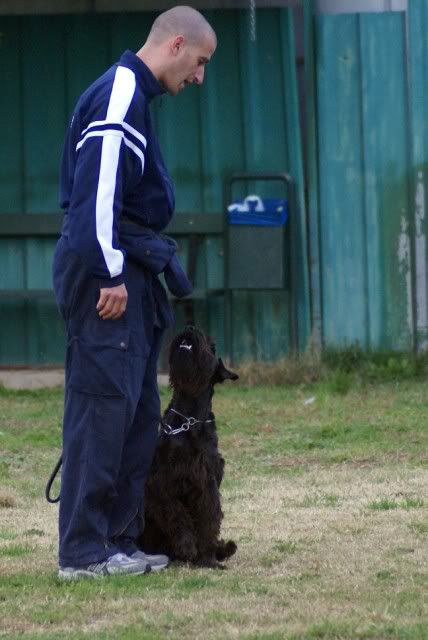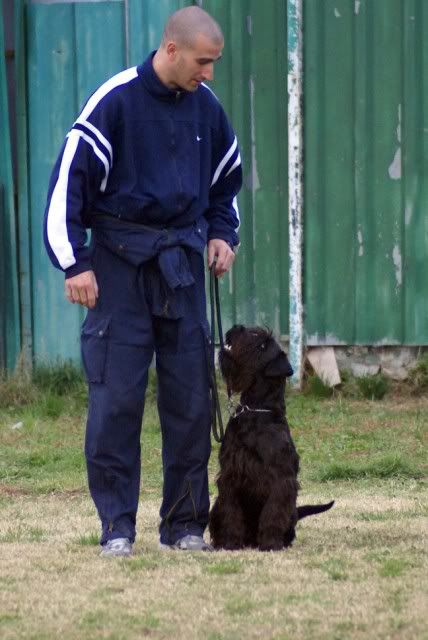 warming up:
it is a pitty that standard schnauzers doesent need working exam, cause they are born for that

ambientart







Similar topics
---
Permissions in this forum:
You
cannot
reply to topics in this forum