I want to ask you of this dog.
For me he was amazing. And to find out if any of his offsprings are in Europe would be so interesting

snasapjasa





Yes, dog it very interesting. But i see his offsrings on Europe/

Savali





There are some grandkids in Europe available:

http://zwerg-schnauzer.info/dog.php?screen=1&id=14032

http://zwerg-schnauzer.info/dog.php?screen=1&id=11865

jellun





This dog be in pedigree my dog, imported from Brazil!!
CH. Sailer´s BK Russell!
http://www.zsardanu.sk/chovne_psy.htm

Sara





Benalta Batman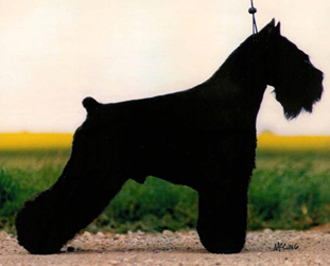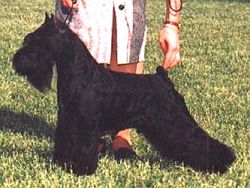 Sara





Hi

I have a 10 year old grand daughter of Batman. Her name is Beauideal H4XOR and yes that is really her name! She has been a great contribution to my breeding in s/p.
You find more about her at my web.

One thing to be aware about B Batman is that he is a carrier of RD, retinal dysplacia, and you can read more about that at kennel Minuteman web.
http://www.katewerk.com/batman.html
And I agree, he is, or rather was, a stunning dog.

Maria
retinal dysplasie ? is it the same of PRA-A progessive retine atrophie type A ?

des matins de cristal





No, this is NOT the same as PRA. Retinal Dysplasia Retinal folds in puppy eye exams is one of the symptoms of this hereditary deformity.
_________________
Karen Brittan, Minnesota, USA
Britmor Miniature Schnauzers
Pedigree indicates what the animal should be.
Conformation indicates what the animal appears to be.
But performance indicates what the animal actually is.
-Author Unknown-

MsBritmor

Administrator






Hi once more!

The good thing about RD is that you can have your pups eyes checked at a very young age, 8 weeks, and if they have RD you can see it and if they don´t have it as puppy they will not get it. They still can be carriers though.

I have checked all Syd´s puppies before selling them but no RD. She might be a carrier but that I don´t know. I will never double her in my breeding to be on the safe side.

If you want mor info on RD look at Minuteman web page.
http://www.katewerk.com/minuteman.html

Maria
Giants can have this, they need checking as puppies as sometimes the folds can smooth out by the time they are adults and you wouldn't know the dog had the problem.

Jo





Have to say, I bred a Giant who was completely clear at it's 6 week test, but was tested at 2yrs old and had developed RD!

Grovelea






---
Permissions in this forum:
You
cannot
reply to topics in this forum