Hello friends,
Allow me to present another dog of mine.
His name is Vital Vis A Vis and he come to our house from Poland.
Born 07.11.2005 out of A Lover's Rampage Vis a Vis and Intro Staszel, he should remain in kennel Vis A Vis but we had lucky that in that time A Repetitions Life Of Crime arrived so Totti was available .
He was a very funny puppy,always ready to play,allowes us to groom him whatever we want to. He only didn't like to be pictured on the table and didn't want to stay in stand.
We started to show him early because he like shows. Only thing that he don't like is walking on sun when is very hot outside.
In our house he meet a love of his life, our House Kazak Sunflower. They are a couple and live like it. When he have some other bitch to mate after mating, he ussualy recieve a beating from Sunflower.
I don't want to talk much of his exterior because all who are on this forum knows how to evaluate a dog but I must say one or two things about his character.
Simple he is a dog with a fun club. Everyone who meet him fall in love with him. I never had so kind and gentle dog. In a house he is like a kitten, completely thrusty toward people. He maybe had that bad luck to come in house where is one very dominant male,my Express Man Rezlark but he never show this. They are living together and never fight,even there is a bitch in heat. I am sorry because i didn't took a picture of one time when Express Man was joined with a bitch and Vital was kissing his ear.
Every time when we have puppies out of him we are so thrilled because he is so dominant in breeding and all of his sons were exactly copies of him so every time is like he is a puppy again.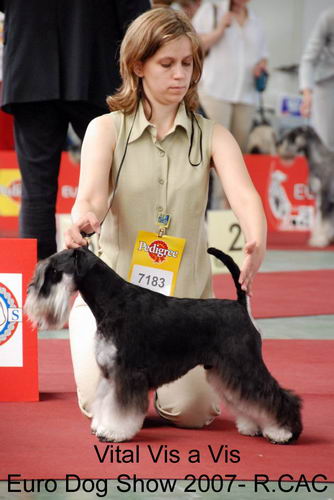 Thanks for your time spent reading this
Our kisses
Jelena and Marko
www.housekazak.com

housekazak





Hi,
You are absolutely right, all the people I have met speak with love about him, he takes everyone's heart :bounce: :bounce:
The character you spoke about reveals in my puppy as well, he lets me do anything on him while grooming, lives with a cat, but he can act like a mature dog when meeting others.
I hope we can meet, and I get to know you and Toto better.

Best wishes

Szende





Hi Jelena and Marko,
Congratulation!!! Many times I saw him on the shows and I must tell you that he is really handsome boy
And It was so nice to see both brothers on the show I don´t know where ( maybe WDS Poznan??? ) I fell love to both brothers and they´re very similar.

tonda





Szende we are so jealous of you having Tottis son from Ildiko. We hoped for a girl from that litter like many others.
Tell me how is he when eating is in question?
His father eats slowly and often try to make us to feed him from hand .
Tonda you are right,on WDS in Poznan Vital and Vamos were in same class.

housekazak





I was hoping also for a girl, but life sometimes decides for you... I feed him only dry food, at one meal he gets 30 g, and he eats it in 11 seconds! I measured it, because I think he eats too fast and I'm worried a little bit, that he gives everything back after swallowing it so fast...

Szende





Today was a day for regular maintenance so I share pics of this boy with you friends.

housekazak





He is always a wonderful boy.
Kisses

Frostmourne





I'm glad you have added to this thread, it has reminded me to watch the video you have put up of him. So great to be able to see these dogs being a dog instead of just a picture.

Jo





Hello!
Vital Vis a Vis is the father from my Desperado von Shamad!
Desperado has a lot of his character properties inherited.
I am already new in this forum so i don't know how to take photos in the tread.
But you can see my baby on this links:
http://www.baerenschnauzer.at/zwergschnauzer/d_gizmo.htm
http://www.baerenschnauzer.at/zwergschnauzer/photos/index1.php

Margit349






---
Permissions in this forum:
You
cannot
reply to topics in this forum